Frozen Festive Vodka or Tequila Bottles With Herbs and Berries
Rita1652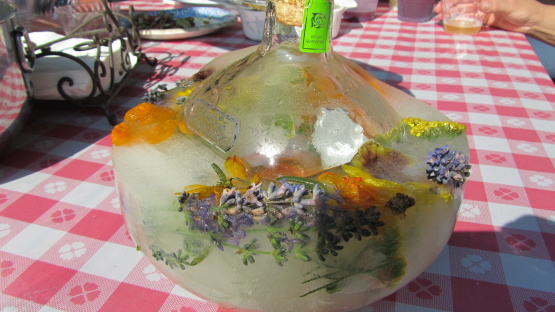 Another GREAT Jamie Oliver recipe, and one that I am preparing for New Year's Eve! Jamie says you can use any spirits or liquor, but he suggestes vodka and tequila in his recipe. These bottles look SO festive and pretty, I plan to use holly, berries, bay leaves, fruit slices, ivy and woody herbs for my bottles this year. DO check that the liquor bottle fits INSIDE the plastic water bottle first! This recipe idea for serving liquor originates from Scandinavia. (Prep time is for freezing the bottles.)

I read somewhere that if you use distilled water it will not get cloudy when you freeze it.
1

(700 ml) bottle vodka or 1 (700 ml) tequila or 1 (700 ml) liquor, of your choice

1

liter water, bottle
fruit slices
holly and berries
fresh edible flower
Cut the top off a 1 litre plastic bottle, pop a 700ml bottle of vodka, tequila or whatever you fancy in there. Fill inside the plastic bottle with water then shove leaves, sprigs of herbs, holly branches and berries, and sliced fruits all around the side. Stand this carefully in the freezer and leave it for a few hours so everything freezes around the bottle.
When you're ready to serve it, simply run the sleeve quickly under a tap then slide it off. You'll have a perfect ice wrap around the bottle to keep it cold for the night - and look gorgeous!