Frozen Corn or Green Beans
Sally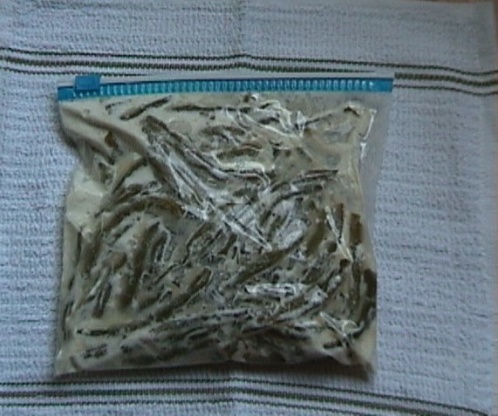 I hate rubbery, squeaky, tough, frozen green beans or corn. I like most veggies frozen rather than canned though. Found this freezer recipe on cooks.com and it looks like a winner. They remind me of the prepackaged buttered ones in the frozen section of the grocery isle. It will not fix old, tough, beans or corn. You still need to pick the best ones but seems better than the plain old blanching method.

I made this recipe last fall with fresh garden green beans, and just cooked the first package last night (nothing like garden flavor in the middle of winter!). As written before, no rubbery texture and the flavor was great. I probably would not serve this to company as the bits of separated dairy did not make for a very attractive presentation.
Clean green beans (Snap/Cut ends, String If necessary) or Clean corn, remove from cob.(Not included in prep time!).
Melt butter, let cool.
Add Half & Half.
Place beans or corn in a baking dish large enough to hold vegetables.
Pour butter and half & half mixture over vegetables. (May not cover but you will see it).
Bake 325 degrees for 1 hour.
STIR EVERY 15 MINUTES!
Let cool, place in freezer bags or plastic containers.