Debbwl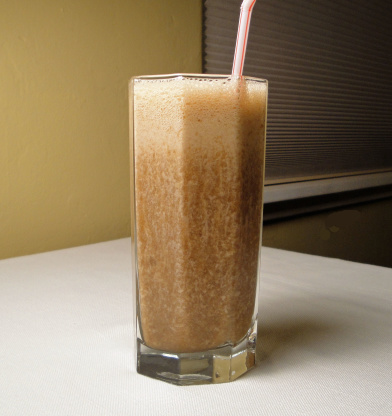 This recipe was found in the 2010 cookbook, Smoothie Heaven. Preparation time does not include the time needed to make the strong coffee or for it to cool & chill.

Top Review by Debbwl
Boy did this fit the bill this morning as I woke up with a nauseating sinus headache. The banana did a great job setting my stomach while the coffee which I am very addicted to keep the headache from getting any worse. The bonus was it was cold, creamy and tasted, made as written without reading the other reviews but do think the other reviewers are on to something and will try adding a some chocolate syrup next. This nice Coffee Smoothie made me feel so much better this morning that I will keep close at hand for the next time I wake not feeling well. Thanks for the post.
Add brown sugar to freshly made hot coffee & stir until sugar has dissolved.
Scrape seeds out of half of a vanilla bean & put them, along with the bean, into the hot coffee, then set aside for 10 minutes to infuse.
Remove the vanilla bean & let the coffee cool, then put it in the refrigerator to chill for at least 30 minutes.
When the coffee has chilled, peel the bananas & put them in a blender along with the coffee & almonds. Process until smooth, then add the ice & process until ice is roughly crushed.
Pour into two glasses & serve immediately.