(Frozen) Chicken in the Crock Pot
mrslegg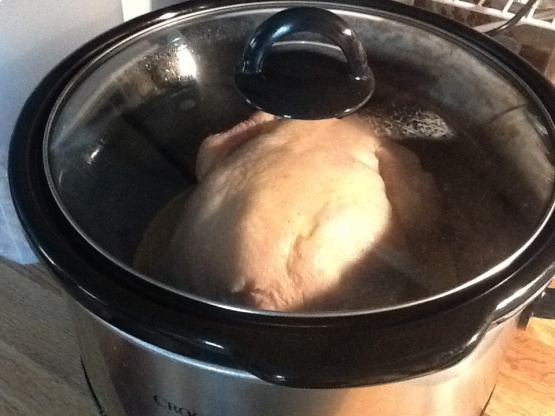 Sounds hard to believe, but it is possible to put a whole frozen chicken in the crock pot and have dinner in about 7-8 hours. When I buy the chicken, I unwrap it and take the gizzards out and also remove the paper placed under the bird. I also try to purchase a chicken with a pop-up timer. Then I re-wrap the bird and freeze it until I'm ready to cook it. Please keep in mind that I have a new crock pot which seems to be hotter than my old one, so cooking times may vary a bit. The original idea for this recipe came from Taste of Home. This is my modification. Hope you enjoy!

What a great basic recipe! I was a bit worried at first, but it worked great!! I was out of wine so used chicken broth instead. I also added potatoes with the carrots. I had a ton of gravy too. I will definetly be making this again for the next time i forget to defrost the night before! Thanks so much!
Spray inside of crock pot with cooking spray.
Rinse chicken and place in cooker.
Mix chicken gravy with water and wine.
Pour over chicken.
Cook on low approximately 6 hours.
About 1 1/2 hours before end of cooking time add carrots and onions.
When done, take chicken out and let rest on a cutting board at least 15 minutes.
Take vegetables out of gravy; strain the gravy and thicken to your preference.
Enjoy with mashed potatoes and a tossed salad!