Sara 76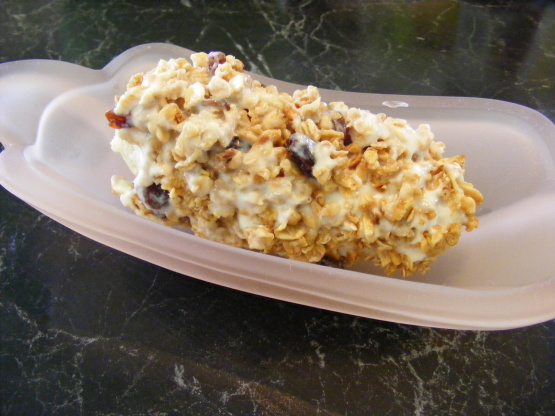 A frozen treat that's not a treat at all! Thank you wholesometoddlerfood.com!!

Yum! I made some of these last night and enjoyed my first for breakfast this morning. I followed the directions as stated except for slicing the bananas lengthwise before cutting in half (so that I ended up with 4 pieces out of one banana). I've never had a frozen banana before, so I'm glad I cut them lengthwise first because it was pretty cold on my teeth (and biting into an entire half at one time may have been too much for me)! I used vanilla flavored yogurt and your Yummy, Healthy Granola recipe (#311501). Easy - but kind of messy - to put together. I really enjoy this as a different spin on bananas, and will definitely be making it often. Thanks for posting!!!!!
Dip banana half in your choice of yogurt.
Roll banana in crushed granola.
Place in freezer bag and freeze. May be eaten without being frozen also.
(Try putting the banana on a stick before freezing to make it more like a popsicle!).