Froth Cocktail White on Yellow
Boomette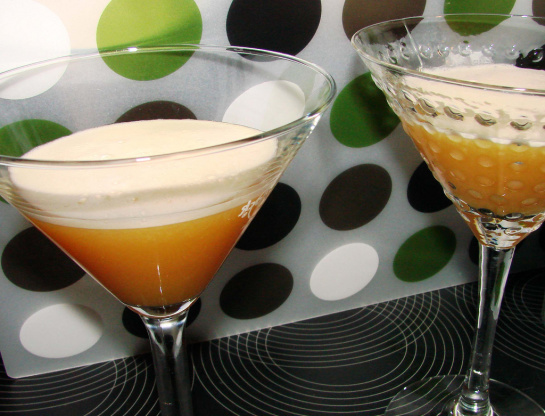 A drink from Ricardo that I have to try really soon. ETA : I made it on September 5, 2011. It's wonderful. Great taste and so cute. I used mango juice instead of apricot nectar. I used pink grapefruit juice and omitted the sugar and lemon juice.
1⁄2 cup clementine juice or 1⁄2 cup freshly pressed orange juice
1⁄2 cup apricot nectar, cold

1

tablespoon triple sec (optional) or 1 tablespoon Grand Marnier (optional)

Citrus Mousse

1⁄2 cup white grapefruit juice, cold
1⁄4 cup vodka

1

tablespoon lemon juice

1

tablespoon sugar

2

teaspoons egg whites
In a large measuring cup, mix juice, nectar and alcohol. Pour in 6 martini glasses. Set aside.
Citrus Mousse: In a shaker, shake vigorously all ingredients until frothy. With a spoon, distribute the mousse on top of each cocktail. If needed, shake again the shaker to obtain more mousse. Serve immediately.