Pamela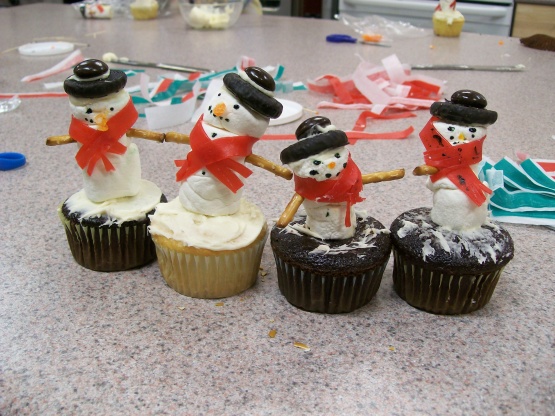 A wonderful winter fun treat from Family Fun Magazine. I made these treats with my elementary school kids cooking class.

This is a really cute idea! I can't wait to try it for my son's class! Thanks a bunch!! Edit to add: Made it for the class and EVERYONE loved!!
1

cupcake, frosted with
white icing

2

large marshmallows

2

pretzel sticks
black decorating gel

1

orange slice candy

1

thin mint cookie

1

Junior mints

1

fruit leather, candy (or fruit roll-up)
Flatten the first marshmallow with the palm of your hand. Vut the second one in half and stack on top to form a snowman and attach to the cupcake with 1 pretzel stick.
Break the other stick in half and stick into the marshmallow to make the arms.
Use decorator's gel icing to make mouth, eyes and buttons.
Cut a wedge from the orange candy to make a carrot nose.
Finally, for the top hat secure a junior mint to a thin mint and attach with icing. Add a fruit leather scarf.
Enjoy!