Frosty Strawberry Dessert
Jubes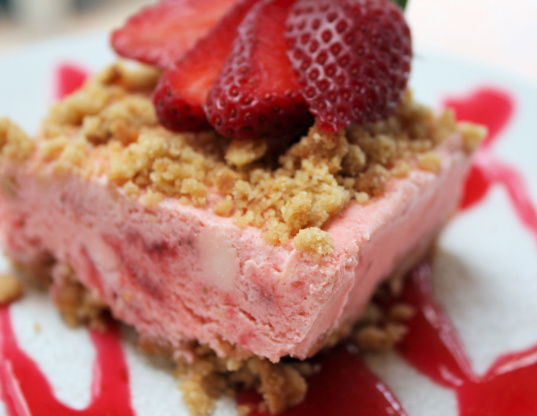 From my My Great Recipes, using frozen strawberries, this is one of my favorite summertime treats. One hour in the freezer for best results.

I enjoyed this not only because it's a frozen dessert, but also because it uses frozen strawberries which are available even in the colder months! This recipe is great ~ easy to make & the dessert tastes great! I didn't have fresh strawberries for the top, so used banana slices ~ Nice!! [Tagged, made & reviewed for Cupid's Choice Beverage Tag game]
Stir together flour, sugar, walnuts, and butter. Sprinkle this crumbly mixture onto a cookie sheet and bake at 350° for 20 minutes, stirring a few times to break up the mixture.
Meanwhile, whip egg whites until frothy. Gradually beat in sugar. Add strawberries and lemon juice. Beat at high speed a few minutes (up to ten minutes depending on your mixer) until very light and fluffy. Fold in whipped cream.
Sprinkle 2/3 of the crumb mixture into a 13X9 inch pan. Spread strawberry mixture on top of crumbs. Top with rest of crumbs.
Cover tightly and keep in freezer until time to serve, at least an hour. Garnish each square with fresh strawberries and promptly return to freezer any unused portion.