My cousin served this at her daughter's bridal shower. Everyone wanted the recipe. With it's green colour, this could be served for St. Patrick's Day!
2 liters pineapple juice
2 envelopes unsweetened lime Kool-Aid
1 liter lime sherbet
2 liters ginger ale or 2 liters 7-Up soda
Directions
In large punch bowl combine pineapple juice and Kool-Aid.
Stir.
Add sherbet in scoops.
Slowly add gingerale or 7-Up.
Let stand 15 minutes to froth.
Reviews
Most Helpful
I made this for our St. Patrick's Day dinner. My family enjoyed this very much. I will use this recipe again whenever we need a good punch recipe. Thank you so much for sharing this yummy recipe with us.

I had a St. Patty's "Green themed" potluck and tried out this recipe and the Lucky Leprechan Lime Drink (160060) as my green punches. This punch was the 2nd place choice as it was a little on the tart side. If you like a punch on the tarter side I would choose this one! Maybe it needs some sweetener? I think I'll stick with the other recipe.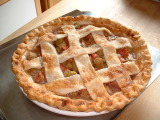 I made this punch for a baby shower. It was simple, cheap and delicious! Everyone raved on how good it was. I highly recommend this recipe. I did add ice to the punch before adding the lime sherbet.