Bev I Am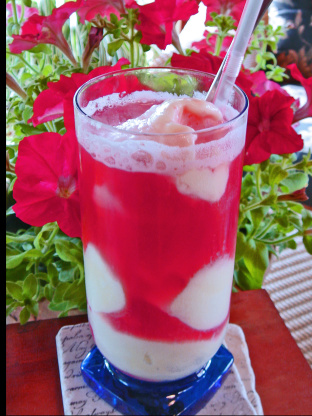 This float is so good, I just love it!! I developed this quite by accident! I had no idea that you could use fruit juice to make a float. When you try this, I hope you will agree with me! If you are unable to find pineapple sherbet use this recipe for Pineapple Sherbet! I haven't seen the nutritional information yet, but by using sherbet and fruit juice I can only imagine that it has to be more healthy for you than a ice cream soda float!! If you would like an adult reversion, try my Cranberry Cooler Cocktail!

I used orange sherbet, as I could not fine any pineapple in my grocery store, and did not notice until after I made it that you featured a recipe for that in the heading, still tasted wonderful! thanks for sharing Bev...Kitten
Scoop pineapple sherbet into a tall glass, till it loosely fills your glass.
Top off with cranberry juice cocktail.