Frosted Pumpkin-Walnut Cookies
CoCaShe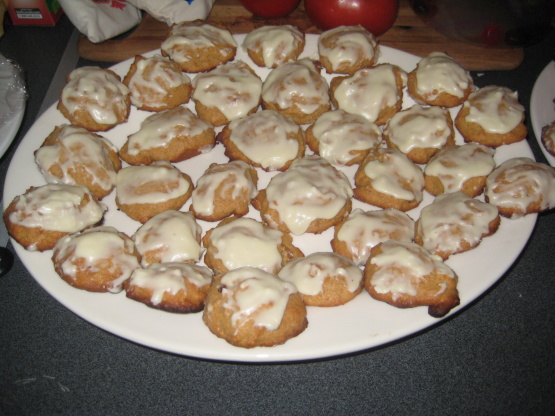 This is my adopted recipe.I have made these now and if you like pumpkin and walnuts you will like these. The original recipe didn't have any nuts in the ingredient list so I tried 1 cup and that seemed to be fine. No milk was listed so I used about 1 tablespoon in the icing. She/He also had 84 as the amount, I only got 58 cookies. Even DH, the picky one, enjoyed them.

These were excellent! I was doubtful since I'm not a huge fan of pumpkin, but I had so much of the insides left over after carving that it seemed a shame to waste. I used the rind of the pumpkin (the hard stuff closest to the skin, not the stringy insides) from a fresh pumpkin I bought and carved earlier that day. I used maple syrup instead of maple extract, and for that and the milk I needed at least twice as much as is called for to get the right consistency for the icing. Even then, you can see in my pics that the icing is quite a bit thinner than in the other pictures, although not sure why. However, these were nice and soft with great subtle flavors and the icing was literally the icing on the cake, err... cookie! Thanks for a great recipe and I'll be keeping this one for next time I have leftover pumpkin!
Cream butter; gradually add brown sugar, beating well at medium speed of an electric mixer.
Add eggs, one at a time, beating after each addition.
Stir in pumpkin and vanilla.
Combine flour, baking powder, salt, and pumpkin pie spice.
Gradually add to creamed mixture, mixing well.
Stir in walnuts.
Chill for at least 1 hour or until ready to bake.
Drop dough by teaspoonfuls 2 inches apart onto greased cookie sheets. I used a 1 1/2 inch cookie scoop and got 58 cookies.
Bake at 375F for 11-12 minutes.
Cool on wire racks.
Frost with Maple Frosting.
(Maple Frosting).
Cream butter; gradually add 1 cup powdered sugar, beating well at medium speed of an electric mixer.
Add remaining sugar alternately with milk, beating until smooth enough to spread.You may need to add a bit more milk.
Add maple extract, and beat well.