Frosted Peanut Butter Brownies
lets.eat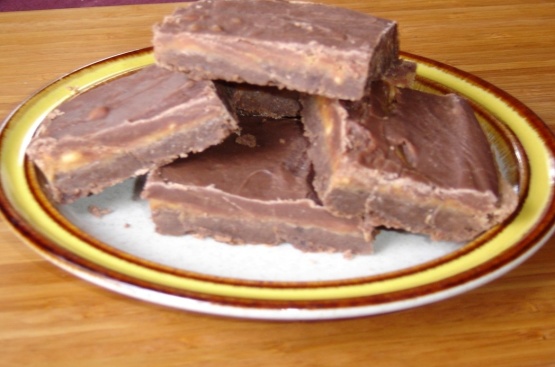 These take a litte effort but my DD is a peanut butter lover and these are her favorite brownies. Got this from Southern Living.

These turned out really well. The one caution I would mention is the step wherein you microwave the peanut butter. Readers should be aware that many manufacturers today are sealing the jars with inner lids that are lined with a thin layer of metal. If you don't get every last bit of the metal liner off of the jar rim, you could be in for some fireworks inside your microwave - potentially, you could even start a fire and obliterate the oven. Transferring the peanut butter to a microwave-safe bowl is probably a lot safer. A bit more trouble, but a lot safer in the end.
Cook 1 cup butter and 1/3 cup cocoa in a saucepan over low heat until butter melts, stirring often.
Remove from heat, and cool slightly.
Combine sugar, flour, and salt in a large mixing bowl.
Add chocolate mixture, and beat at medium speed with an electric mixer until blended.
Add eggs and vanilla, beating until blended.
Spread mixture into a greased 15x10 jellyroll pan.
Bake at 350 degrees for 20 minutes or until a wooden pick inserted in center comes out clean.
Remove lid from peanut butter jar; microwave peanut butter at MEDIUM (50% power) 2 minutes, stirring once.
Spread over warm brownies.
Chill 30 minutes.
Cook remaining 1/2 c.
butter, milk, and marshmallows in a large saucepan over medium heat, stirring often, until marshmallows melt.
Remove from heat.
Whisk in 1/4 cup cocoa; gradually stir in powdered sugar until smooth.
Spread over peanut butter, and chill 20 minutes.
Cut into squares.