WiGal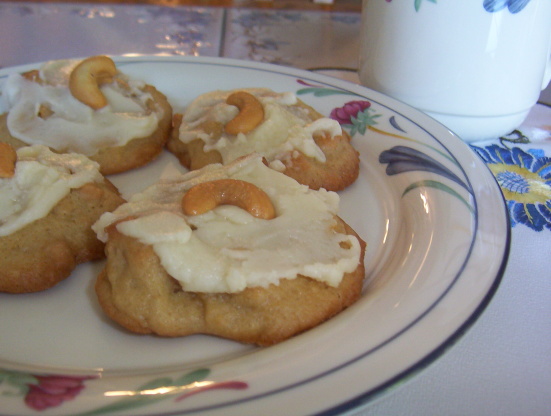 I found this one in a TOH cookbook of favorites. It's definitely a favorite if you love cashews!!
These are delicious! This is a great cookie - the flavor is so good. The saltiness of the cashews is delicious with the sweetness of cookie. The frosting is excellent, too. I will definitely make these again.
In a mixing bowl, cream the butter and brown sugar.
Beat in the egg, sour cream and vanilla.
Mix well.
Combine dry ingredients and add to creamed mixture and mix well.
Fold in cashews.
Drop by rounded teaspoonfulls onto greased baking sheets.
Bake at 375 degrees for 8-10 minutes or until lightly browned.
Cool on a wire rack.
Frosting:.
Lightly brown butter in a small saucepan over low heat.
Remove from the heat.
Add cream and vanilla.
Beat in confectioners' sugar until smooth and thick.
Frost cookies.
Top each with a cashew half if desired.