Prep 30 mins
Cook 30 mins
Recipe source: Bon Appetit (February 1985)
Directions
To make brownies: Preheat oven to 350-degrees F.
Butter and flour 8-inch square baking pan or line pan with buttered and floured parchment paper.
Sift together first 4 ingredients (flour- salt). Repeat (sifted twice). Set aside.
Cream butter with sugar and vanilla until light.
Beat in eggs one at a time.
Add corn syrup.
Add dry ingredients, blending well. Stir in walnuts, if using.
Spoon batter (batter will be very thick) into prepared pan, smoothing with plastic spatula or knife.
Bake for 30-35 minutes or until toothpick tests clean.
Cool while making frosting.
To make frosting: Melt chocolate and butter in double boiler over simmering water or in microwave. Stir in sugar, water and vanilla.
Spread frosting over brownie. Sprinkle with walnuts, if desired.
Let stand until frosting sets and then cut into 8 squares.
Most Helpful
These brownies are very good. I think they are more cake-like than fudgey. I doubled the recipe because my boys really like brownies. We love the frosting! Thanks ellie~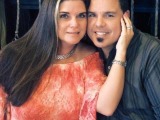 YUM!!!! Made these this weekend for guests and they turned out pefect. I like a cakey style brownie, dh likes chewy - this gave us both what we like and frosting too! Easy to make so they will be made often. It was a great recommendation - Thanks!