From Scratch Tuna Noodle Casserole
loof751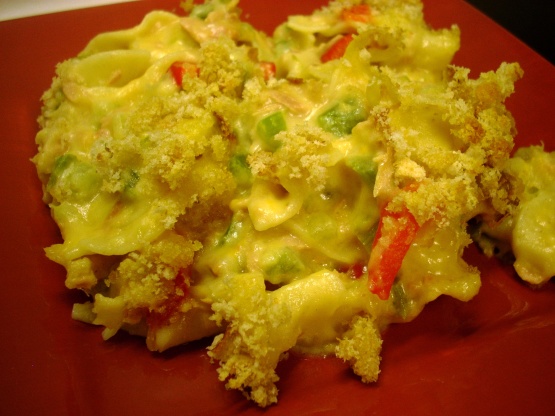 I searched but didn't see another recipe exactly like this one posted, so I hope I'm not posting a repeat! You'll never go back to canned soup tuna noodle casserole after trying this, at least I certainly haven't. This is from Better Homes and Gardens.

I think this dish has a lot of potential, and I'm sure I'll make it again. Before attempting this again, I'll figure out what seasonings will work for me to make it more flavorful.

I made this again tonight, and it was a lot better! I added some fresh dill, as dill is really good paired with just about any fish. I also tripled the amounts of garlic and black pepper that went into it; it was very flavorful this time around. I've added this to my recipe book with my additions. Substituting 2 cans of chicken in place of the tuna..(for some reason people here think they don't like hot tuna!;)) I think I'd also make a bit more of the gravy mixture next time because I'd have liked it a little creamier, but considering I didn't really put exactly 8oz of noodles in, (dumped more on accident)it is probably the reason it wasn't as creamy. Anyway, excellent recipes.
Preheat oven to 375°F.
Cook noodles, drain, and set aside.
Meanwhile, combine breadcrumbs with 1 tablespoon melted butter.
Set aside.
For sauce, in a medium saucepan cook onion and celery in 1/4 cup butter until softened.
Stir in flour, salt, mustard powder, and black pepper.
Add milk all at once.
Whisk until slightly thickened and bubbly.
Combine sauce, tuna, cheese, roasted pepper or pimiento, and cooked noodles.
Transfer to a 1 1/2 quart casserole dish.
Sprinkle with breadcrumb mixture.
Bake, uncovered, for 20-25 minutes until bubbly and breadcrumbs are golden brown.