KGCOOK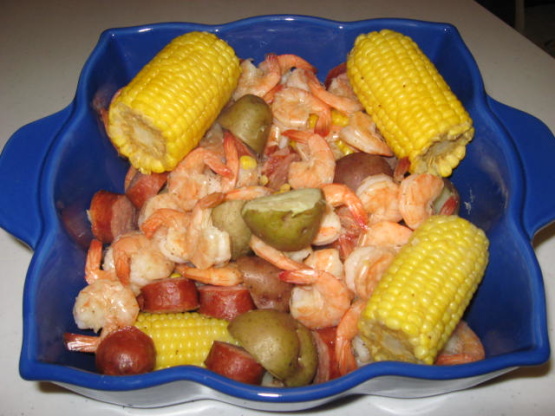 Spicey seafood stew. Great for entertaining!

There is no way this version of Frogmore Stew could rate 5 stars. The first mistake is the turkey sausage. You need smoked sausage or kielbasa for the fat and flavor. Cool the broth and store the leftovers in the liquid. The ingredients will be even better the next day. The more Old Bay, the better.
• Bring 5 quarts water and ¼ cup Old Bay seasoning to a boil in a large stock-pot. Add potatoes; return to a boil, and cook 10 minutes.
• Add sausage and corn, and return to a boil. Cook 10 minutes or until potatoes are tender. Remove potatoes, corn, and sausage with a slotted spoon.
• Add shrimp to stockpot; cook 3 to 5 minutes or until shrimp turn pink. Remove shrimp with a slotted spoon. Serve with additional Old Bay seasoning, cocktail sauce, and butter. Yield: 12 servings.