Froggies Aka New York Delight
Pixie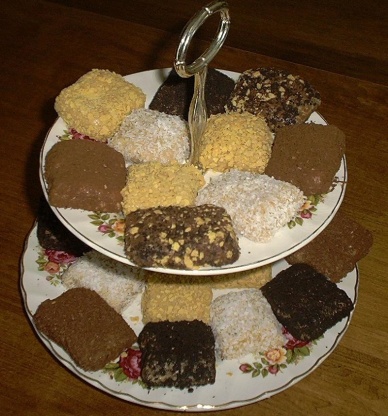 This is a recipe that my DH grew up loving, and I grew to love them. I got the recipe from a good friend of their family. They are easy to make and are yummy to eat. I'm not sure were the name "froggies" came from as their real name is New York Delight. Cook time also requires 1 hour cooling time.

Top Review by Pixie
YUMMY ALERT! These are great! I'm not all that wild about cornflakes, so I did a few with cornflakes first. Then I played around, doing some in coconut, some in oreo crumbs, some in a bit of cocoa mixed with the coconut and finally some "mongrel" ones done in all the leftover coatings mixed. I cut 25 squares because that seemed about the right size to me. I did find that they have to be cold to work with, otherwise they are just too sticky. Also, I found that pressing slowly and firmly with the knife worked best. Usually I had to reshape them a bit after I got them out of the pan too. This is a wonderful treat, so easy but looks like I slaved for hours! Thanks, Melanie.
In a medium saucepan, beat eggs, add sugar, margarine and coconut; cook for 1 minute.
Add marshmallows, and stir until dissolved.
Add graham wafer crumbs and mix well.
Press into lightly greased 8x8 square pan.
Chill in fridge until completely cool, approximately 1 hour.
Cut into bars and roll into crushed corn flakes.The easiest way to get the crumbs finely crushed is to put them in the blender for a few seconds, this makes it easier to roll them.