Frittata With Sun-Dried Tomatoes
PaulaG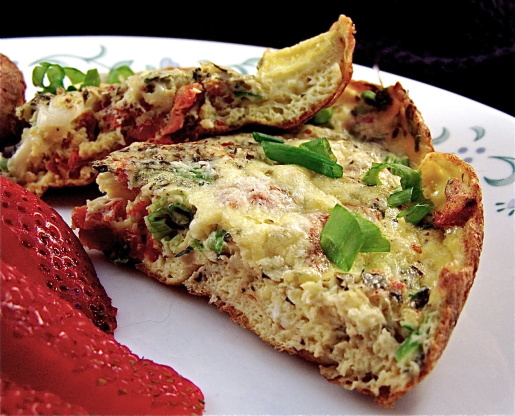 This is a modified version of a recipe published in Bon Appetit magazine.
Preheat oven to 350 degrees.
Whisk eggs and milk in large bowl to blend.
Stir in cheese, tomatoes, green onions, basil, salt, and pepper.
Melt butter in large ovenproof nonstick skillet over medium to medium-high heat.
Add egg mixture; do not stir.
Cook until eggs start to firm and sides and bottom begin to brown, lifting sides occasionally to let uncooked egg run underneath, about 5 minutes.
Sprinkle with Parmesan cheese.
Transfer skillet to oven and cook until eggs start to puff and brown and the center is cooked through, about 15 minutes.
Using spatula, loosen edges and bottom of frittata. Slide out onto plate.
Slice frittata into wedges. Serve warm or at room temperature.