CoffeeB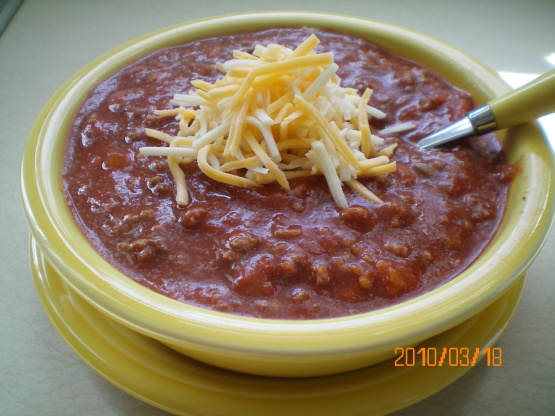 I like my chili thick and mild with just a bit of zing and I hate the taste of pre-packaged seasoning mix so here's my own chili recipe served my favorite way...scooped over a layer of fritos corn chips and topped with shredded cheddar cheese! This reminds me of childhood! Enjoy.

A delicious chili recipe. Although the ingredient list looks daunting...it comes together quickly. This is quite a spicy chili and so future reviewers might want to opt out of the red pepper flakes or cayenne seasoning. Made for Spice of the Month. - Paprika!~
Combine first 6 ingredients in a dutch oven or large pot.
Cook until beef and sausage are browned and drain excess grease.
Turn heat to medium and add remaining ingredients.
Turn heat to medium low and simmer for 40 minutes.
To Serve:.
Pour a layer of Fritos onto a plate or into a bowl.
Spoon chili over Fritos.
Garnish with desired amount of shredded cheddar cheese.