Lillemor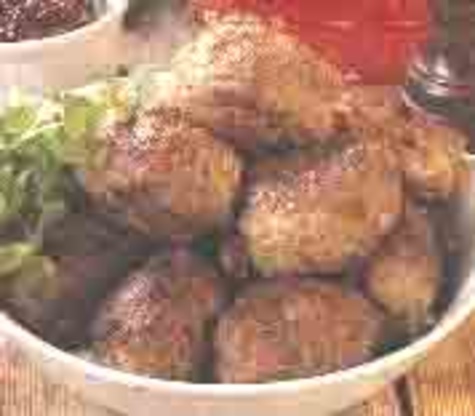 One of my exchange students, Camilla, from Denmark made these for supper one night, and I never stopped making them.

To this excellent basic recipe I add a smitch of allspice (Die Tre Krydderier) and nutmeg to enhance the flavor. Fine crumbs can be substituted for flour. The meat mixture should be very soft to shape but firm enough between two tablespoons to form the ovals. Boiled new red potatoes with parsley and butter are a perfect side dish, or Danish potato salad made with creme fraiche. The potato water is tradionally essential to make the pan gravy, however you thicken it to start. The hot potato water is added slowly, stirring. Leftovers sliced make open-faced sandwiches on buttered bread, usually the dark rye/pumpernickels. I'm preparing a modest family Easter cold table. This is one of the three meats. Well done, Shirl! Beth
Mix the beef, pork, eggs and milk well.
Add flour, onion, s&p.
Mix well.
In heavy skillet melt some shortening to coat pan.
Form the mixture into egg shapes (oval kinda).
brown until done.
Turn very carefully.