Frijoles Negros- Crock Pot Mexican Black Beans
Karabea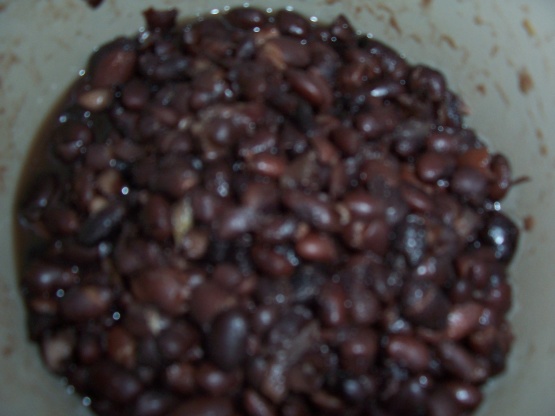 At last I have achieved the perfect flavour of traditional black beans with the crock pot. It takes long but it is because of the crock pot; preparation really takes you few minutes of your time. Waiting is worth it and freezing some is an excellent way to enjoy this versatile dish any day. After you have cooked them you can garnish them with diced tomatoes, fresh onion, oregano and some olive oil. If served cold it is great to add some fresh finely chopped jalapeños and some drops of lemon juice. Still hot, you can separate the juice from the beans and use it for cooking rice or just drinking it in a cup with diced avocado and sour cream. There are many ways you can enjoy black beans, this is just the starting point. Buen Provecho!

These were tasty, but I am wondering if there is a misprint in the recipe. It seems as though the beans should cook on the low setting instead of the high setting. I set mine to cook on high, and when I checked them 8 hours later, the beans were completely cooked and breaking into pieces...maybe my crock pot cooks at a higher temperature or something. The beans were really good (I did add more salt than the recipe calls for), and I will probably make them again, but next time I will definitely cook them on low. Thanks!
2

cups black beans (soaked)

6 -8

cups water (depending of your crock pot size)
1⁄2 onion (cut in two quarters)

2

teaspoons salt
Soak the beans for at least 8 hours. If they are old, 24 hours is great. You must change the water at least 3 times to rinse the white foam that appears in the surface.
Pour the beans in the crock pot with the water, the bay leaves, the onion and garlic. (Cut in half the garlic cloves to take out the stem that germinates so it is nicer for your tummy, you can plant the stem or just through it away).
Cook on high for 12-15 hours. Check the amount of water around the 8th hour and fill again if necessary.
Turn of the crock pot and add the salt, stir softly and let it rest for at least 30 minute.
*You can use more beans, depending of the capacity of your crock pot. It will be a nice soup that you can enjoy hot or cold. Separate the beans for using them in other recipes like fried and mashed beans.