Frijoles (Mexican Style Pinto Beans)
gailanng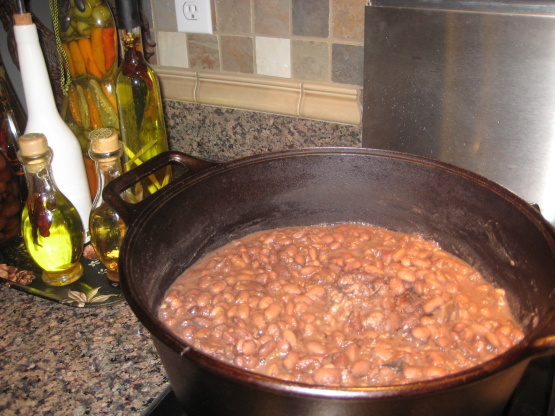 Beans are a part of everday eating in the Southwest. Frijoles are served either soupy in broth or mashed and fried (frijoles refritos- or refried beans). This mouthwatering recipe features both variations. Tip: If you want the beans extra spicy, do not remove the seeds from the chiles. Prep time does not include soaking. From Ladies Home Journal.

Arriba, arriba, andele! I don't know if that slang is appropriate or not, but I couldn't help thinking the phrase throughout my cooking process. I cooked 2 lbs of pintos using a ham bone for seasoning and purposely cooked them thick to be used in burritos and dip. Excellent recipe...muchas gracias!
Soak beans according to package directions; drain.
Heat oil in stock pot or dutch oven over medium-high heat.
Add salt pork; cook 2 minutes, until browned.
Reduce heat to medium; add onions and chile and cook 4 minutes.
Add garlic and cook 1 minute.
Add drained beans, water and cumin seed.
Bring to a boil; reduce heat to medium-low, cover and simmer 30 minutes.
Add salt and continue to cook 25 to 35 minutes more, until tender.
(Can be made ahead. Cool. Transfer to large microwaveproof container. Cover and refrigerate overnight. To reheat: Microwave on high 10 minutes, stirring once after 5 minutes, until heated through.) Makes 7 cups.
Refries Beans (frijoles refritos):.
Heat 1 tablespoon olive oil or lard in large skillet over medium-high heat.
Add 1/2 cup finely chopped onion and cook 2 to 3 minutes, until browned.
Add 2 teaspoons finely chopped garlic and cook 30 seconds.
Add 2 cups cooked beans and 1/3 to 1/2 cup bean liquid to skilet.
(Or, microwave 2 cups refrigerated beans and 1/3 to 1/2 cup bean liquid on High, 2 to 3 minutes, until room temperature, and add to skillet).
Mash beans and liquid coarsely with back of wooden spoon or potato masher.
Cook 1 to 2 minutes more, untilheated through, addingmore bean liquid or water if needed.
Transfer beans to a food processor.
Process just until smooth.
Makes 2 cups (4 servings).