Frijol Sopa (Mexican Bean Soup)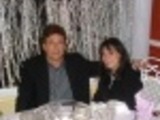 This is a fast, delicious soup that couldn't be easier to make. My family has enjoyed this for years.
Directions
In saucepan, combine all ingredients except for garnishes. Bring to boil, stirring. Reduce heat. Simmer, covered, 20 minutes.
Garnish with shredded Cheddar cheese and tortilla chips.
Reviews
Most Helpful
Making this AGAIN for dinner tonight. My kids(and I) love this soup. We like to pour it over a small bag of corn chips. Such a simple recipe but big on taste.
Made for holiday tag. We LOVED this soup! Having said that...I did saute the bacon and veggies together before adding the the remaining ingredients.Totally great use of refried beans.

I love refried beans in my soup - so this was a great find! I sauteed my onions, celery and green peppers until the onions were transparent before adding everything else - I am very glad that I did because they didn't really soften too much more even after simmering for 20 minutes. Didn't add the bacon (all out) but I could tell that it would have been a really nice addition; I think a splash of fresh lime juice would be a great addition at the end too. I think 25 minutes might be a little on the optimistic side, even without the sauteeing, because it does take some time for the mixture to come to a boil. All in all, very good soup that I'll be making again - I've always got these ingredients on hand!