Friggione (A Side Dish of Potatoes & Tomatoes & Peppers)
jenne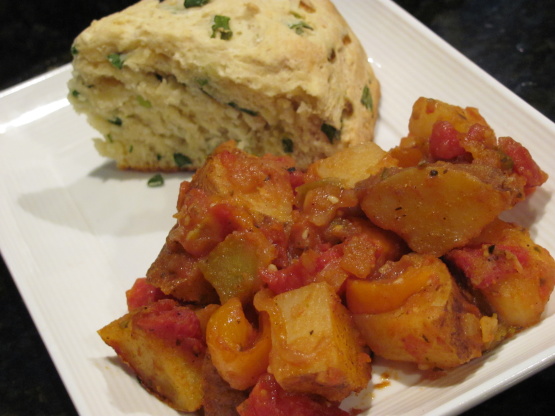 A mix of canned tomatoes, potatoes, & peppers. A nice side dish to go with sausages, chops, steak, or chicken. As a vegetarian dish this makes a meal in a pan! NOTE: Do not hurry the cooking time as this tastes better as the liquid disappears and the mixture browns. Another of my 'Alison Holst' collection of made often dishes.

*Made for Australia/NZ Swap #40* Totally tasteful ! I used one of those TV gadgets with a green lid which dices veggies -- and used the one with smaller dice. Will use the larger next time. Also used a green and yellow pepper. Amazing taste from so few ingredients ! I let it simmer covered for about 45 minutes with lid on, the 20 minutes with out. Thanks for posting, Jen T.
Heat oil in large frypan. Non stick is best.
Cut the potatoes into 1cm cubes and slice the onions and peppers.
Add these to the hot oil and cover and cook over a low to moderate heat for about 20 minutes, stirring several times, until the vegetables are tender and lightly browned. Do not try to hurry this step by cooking on a high heat.
Add the can of tomatoes and their juice.
Cook uncovered for a further 15-30 minutes until the mixture darkens in colour and the liquid has reduced so that there is only a small amount left around the potatoes. Again do not use a high heat.
Season to taste and sprinkle with the chopped parsley if using before serving.
Serve Hot or warm reheating if neccesary if your meat is not ready at the same time.