Fries and Beef Bake Casserole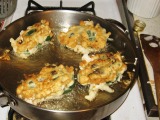 I'm posting this to keep track of it. The original recipe comes from a casserole cookbook, long gone. I like different casseroles and this one really caught my attention. Cheap, fast and easy. And what could be better than hamburger and fries?
Directions
Brown the burger and tenderize the onion together in a large skillet. Drain.
In a greased 9x13-inch casserole dish, layer 1/2 of the fries, peas and meat mixture. Repeat another layer.
In a separate mixing bowl, combine soup, water, ketchup, parsley, Worcestershire sauce, marjoram, dry mustard, salt, and pepper. Pour over the top of the casserole.
Bake, uncovered, at 350°F for 40-45 minutes.