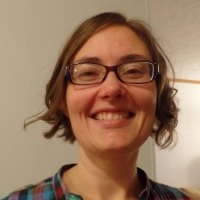 These made good tasting, pretty standard fair, pancakes. I ended up making seven 5-inch diameter pancakes. I was disappointed that I couldn't taste the starter flavor (sourdough) at all. I think I could have left the starter out of this recipe and still made passable pancakes, albeit somewhat less sweet of pancakes. Since this uses an odd amount of starter, versus most friendship recipes using 1/2 cup up to 2 cups in 1/2 cup increments, I am not sure that I would make this again since now I have an odd bit of starter left. I like to use it up each time, but that is just me. Overall, good flavor, tasty pancakes, just not the flavor I was hoping for.
1⁄3 cup friendship active starter

1

cup milk

1

egg

2

tablespoons oil (or unsweetened applesauce)

1

cup flour (AP, wheat, oat, buckwheat, etc - whatever you prefer)

2

teaspoons sugar

1

teaspoon baking powder
1⁄2 teaspoon baking soda
Combine flour, sugar, baking powder& baking soda in a large bowl.
Add wet ingredients& combine just until moistened.
Cook batter just as any other pancakes.
Serve warm with butter& syrup.