Prep 10 mins
Cook 10 mins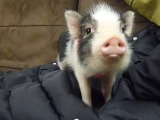 A southern Italian favorite
15 squash blossoms (zucchini flowers)
1 1⁄4 cups all-purpose flour
1 (12 ounce) bottle pilsner beer or 1 (12 ounce) bottle lager beer
1 egg white
1 teaspoon kosher salt
vegetable oil (for frying)
Directions
In a large pot or deep frying pan heat about 2" to 3" oil over medium heat. There needs to be enough oil for the flowers to float on top, or they will stick to the bottom. Heat until oil is roughly 350°.
In a med mixing bowl combine flour and salt. Make a hole in the middle of the flower and add in your egg white. Then whisk in your beer until mixture is almost smooth (some small lumps are ok—do not overwhisk or batter will deflate).
One by one dredge the blossoms in the batter, shaking off the excess, and gently lay in the oil. Do not over crowd the pan. Cook, flipping once with a slotted spoon or tongs.
When blooms are golden brown, 2–3 minutes total, remove and lay on a plate with a paper towel to soak up any extra oil.
Serve and Enjoy! Best eaten when hot!