LisaAD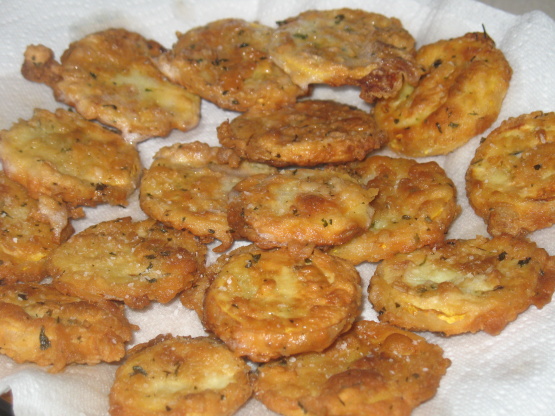 This recipe is an old favorite. I am certain everyone prepares it this way at sometime or another. I can't imagine a summer that would pass without having this at least once a week when the harvest is in

This was fabulous! Just like my mom used to make! I omitted the parsley flakes just as a matter of taste, and I added a teeny pinch of sugar to flour mixture because that's what my mom always did. This made a great light summer meal. Thank you for your wonderful recipe!
Wash squash thouroughly and dry. Slice into 1/4 inch rounds. Heat up the oil in a frying pan to medium.
Combine flour, pepper and parsley. Dust squash rounds with flour.
Combine milk and egg and whish thoroughly.
Dip the dusted squash into the egg mixture and coat to cover all the flour.
Pat squash into the remaining flour and put into hot oil. Fry til golden brown on the outside and cooked on the inside of squash. Set cooked squash on paper towels to drain.
Sprinkle with kosher salt and serve hot.