Fried Tomatoes With Basil
loof751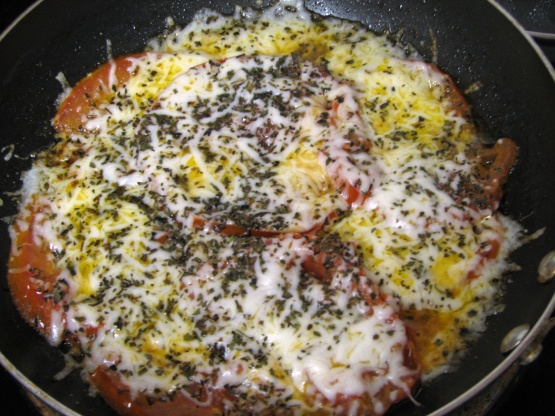 I cut this out of a newspaper when I lived in Atlanta for a short time in the early 80's. It was in a "cooking for one" column, but I have doubled it here. Use it as a first course for guests, to accompany steak, fish or chicken, or as a light dinner for yourself on a hot summer night when everyone is out. New Jersey tomatoes (the best) really shine in this recipe! Make fresh corn on the cob and have a feast!

This was pretty good! I made it with a combination of cheddar cheese and monterey jack cheese. It was a nice combination. I also used plenty of fresh basil on it. Thanks!! Made for PAC '07
Slice the tomatoes thickly. Melt the butter and olive oil in a frying pan over medium heat.
Add the tomato slices and fry on one side for about one minute. Turn each slice and sprinkle with cheese. You can use any cheese - mozarella or cheddar work well.
Sprinkle with chopped basil and continue to fry until cheese melts. Cover the pan if you want to speed up the process.