Fried Strawberries With Honey Cream
Thorsten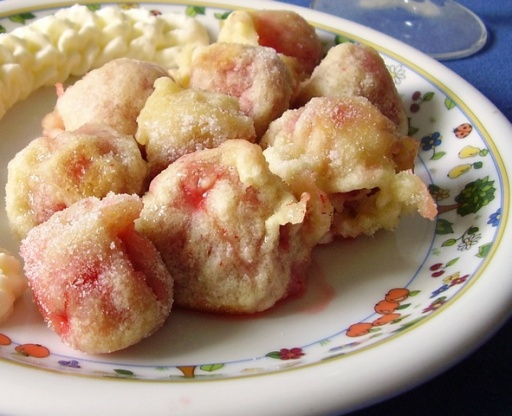 A Netherhill Strawberry Farm Favorite Recipe! I had never heard of deep frying strawberries....but they are really good!

If you have any sense at all you'll make this the next recipe that you try.
Wash strawberries and remove stems; Pat dry with paper towels; Set aside.
Whip Cream and Honey in a bowl until thick and put in fridge.
In a large saucepan or deep fryer heat 2 inches oil to 375 degrees.
Combine flour and 1 tablespoon sugar; Make a well in the center.
Combine eggs, wine and the 2 tablespoons oil;
Add to flour mixture and beat until smooth.
Dip berries, a few at a time, into batter.
Fry strawberries in hot oil for 1 to 2 minutes.
Remove with slotted spoon; drain on paper towels.
While still warm, roll in the remaining 1/2 cup sugar.
Cool slightly before eating.
Serve warm with Honey Cream.