Fried Strawberries With Honey Cream
Thorsten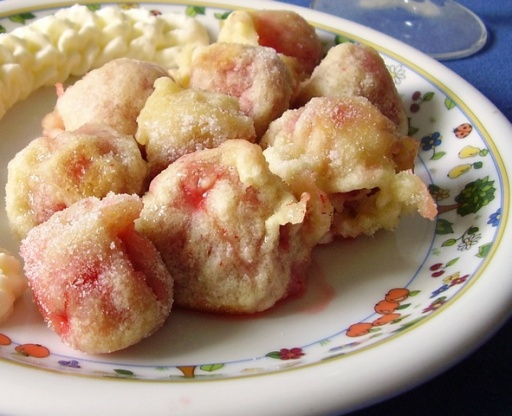 A Netherhill Strawberry Farm Favorite Recipe! I had never heard of deep frying strawberries....but they are really good!

Ok, I'm a good cook....my family thinks I'm great.....what did I do wrong here?My berries were ripe, washed and dried...allowed to sit on paper towels until I was ready to dip and fry.......all of the batter slid off....not a single one worked. I'm baffled.....stopped after second batch of three.......had some oily , soft berries and lots of crispy fried batter bits. I admit I don't deep fry a lot but still.....any thoughts?
Wash strawberries and remove stems; Pat dry with paper towels; Set aside.
Whip Cream and Honey in a bowl until thick and put in fridge.
In a large saucepan or deep fryer heat 2 inches oil to 375 degrees.
Combine flour and 1 tablespoon sugar; Make a well in the center.
Combine eggs, wine and the 2 tablespoons oil;
Add to flour mixture and beat until smooth.
Dip berries, a few at a time, into batter.
Fry strawberries in hot oil for 1 to 2 minutes.
Remove with slotted spoon; drain on paper towels.
While still warm, roll in the remaining 1/2 cup sugar.
Cool slightly before eating.
Serve warm with Honey Cream.