lazyme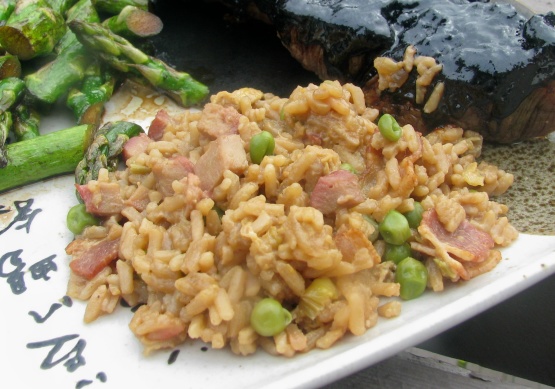 Great way to use leftover rice and bits of leftover meats.

Top Review by lazyme
Very simple and good. I used some leftover BBQ pork, bacon, and peas. Thanks for sharing, Deb. Made for Culinary Quest 2014.
Heat oil or bacon drippings in an 8 inch skillet.
Add rice.
Stir-fry until rice is hot and mixed with oil and drippings.
Add soy sauce, mix well. If rice is dry, add 1 to 2 tablespoons water; cover and cook gently until water is absorbed.
Stir in green onion.
Push rice to side of skillet.
Beat egg separately or break into skillet and quickly scramble with a fork. As egg sets, stir gently to let uncooked egg glow undereath.
Stir cooked egg into rice, breking egg into small pieces.
Stir in minced cooked meat.
Heat through.