Food.com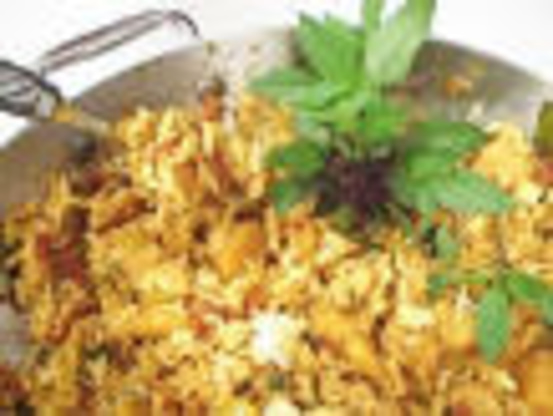 This is a fairly easy recipe for fried rice, yet it tastes really good. Good recipe to impress your loved ones. This is my favorite recipe for fried rice, especially when I am in a hurry, and not really in an 'all-day-in-the-kitchen' cooking mood:) Note: This is not a chinese fried rice which is usually more moist and can be eaten by itself. This is more of an Indian, or Sri lankan fried rice that is usually dry and is eaten with curries. I thought I should explain since some of you might be expecting more of a 'chinese' kind of a fried rice :)

Your description of the dish is very accurate. It was easy and very good. It was much better than the traditional wok fried rice. And basmati was a great change from long grain rice. Thank you Shereen.
In a medium pot, fry the onions and the garlic in the oil till golden brown.
Add the grated carrot and fry for about 3 minutes.
Add the chilli powder, turmeric, salt, and egg and stir for another minute.
Stir in the rice.
Stir the mixture 2-3 minutes until the rice is properly mixed with the rest of the ingredients.
Pour 3 cups of water and stir well.
Let it cook uncovered until the water boils.
Lower the heat and cover the pot.
Let it cook till all the water dissapears from the bottom of pan.
(till you think the rice is cooked, usually it takes about 15 minutes).
Serve hot with your favorite curry or as a side dish.