Peter J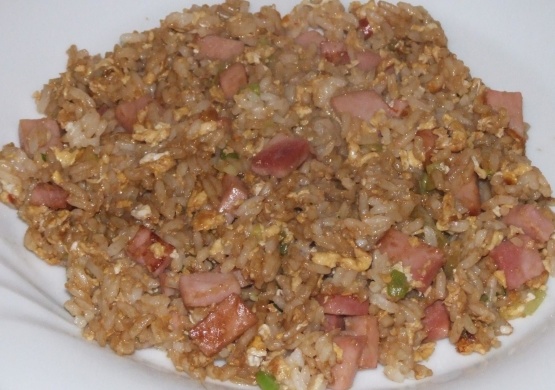 This is a recipe from Donna Hay. When I can get it I also like to add barbecued pork, or even Chinese sausage which is available from most supermarkets. It's a meal in itself.

Yummo Terese! The only change I made was to use diced ham rather than shrimp because the main dish I was serving it with contained prawns. At first I was stumped by what 'garlic sprouts' were but noticed later that it mentioned garlic chives and someone had recently given me a garlic chive plant, so this was my first opportunity to use them in a recipe that actually calls for them!
Cook the rice via absorption method and allow to cool slightly and separate grains with a fork (the rice could be made in advance or the day before).
Heat peanut oil in a wok or deep frying pan over high heat and add the beaten eggs and swirl around wok until cooked, breaking the egg up as you go.
Add the rice, ginger, chillies, green onions, garlic chives and prawns and cook for 5 minutes or so.
Sprinkle with soy sauce.