Fried Pound Cake With Orange Syrup
Ms B.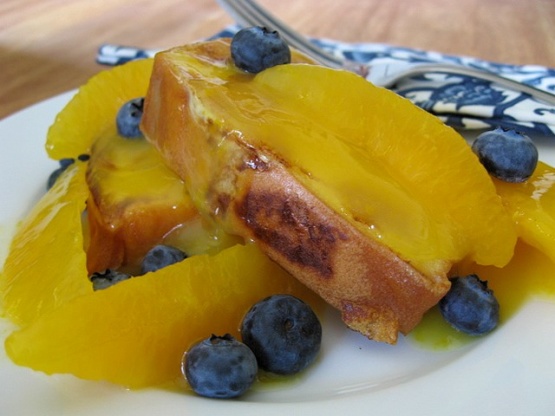 Posted in response to a request. This came from show 172 of "The House to Home Show." Times are a guess.

Top Review by Ms B.
Yesterday morning, the scale said that I had dropped another 2 pounds. I guess that I wanted to gain it all back in one meal with Fried Pound Cake With Orange Syrup. This was VERY good, though...and the fresh flavor of the orange is deceptively light...almost makes you forget about the calories. LOL
Combine orange juice, sugar and orange zest in a medium saucepan.
Bring to a boil, stirring continuously, until the sugar is dissolved.
Remove from heat and let cool to room temperature.
While the sauce cools, peel oranges with a sharp knife (be sure to remove all of the white part- is it called pith?).
Segment oranges and place in a bowl.
Pour the syrup over the oranges and refrigerate until chilled (about 2 hours).
Whisk eggs and milk together in a shallow dish.
Dip slices of pound cake in egg mixture, evenly coating both sides.
Cook pound cake slices, a few pieces at a time, in a lightly greased skillet over medium heat for 2 1/2 minutes on each side or until golden brown.
Serve with orange syrup and garnish with blueberries.