Fried Potatoes and Smoked Sausage
teresas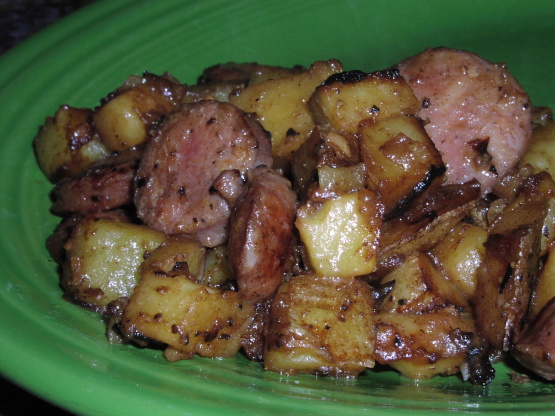 Yummy comfort food, that the whole family will enjoy. Good in any weather :)

This was made on 6/25/09 for mine and SO's dinner.Since the was just the two of us,the recipe was reduced down to serve two.I used three medium sized potatoes and about 7 ounces of beef smoked sausage. And the onion was cut back to 1/3 cup, and I forgot the garlic ( next time I'll remember it ) This was a very good "comfort food " recipe. Thanks for posting and, "Keep Smiling :) "
Put a large skillet on the stove on Med High. Put oil in the pan and add the chopped onions and garlic. Peel and cube the potatoes. The smaller the cube the less cooking time. Add salt and pepper to season accordingly to your taste. Turn the potatoes every few minutes till they are browned on all sides. Slice the smoked sausage (I use the skinless with cheese inside) and add to the pan. Cover then stir every few minutes. We like the meat really browned so I turn up the heat to high till the sausage slices are the right color.
Serve with a salad and some sweet tea, and you have the perfect midweek meal.