Prep 10 mins
Cook 10 mins
Got it from Mama's cookbook. Tested and loved. Enjoy.
Directions
Peel and slice potatoes.
Heat fat in a large skillet until hot.
Add sliced potatoes.
Fry well, turn occasionally until nice and brown.
Add onion, fry few minutes more.
Salt and pepper.
Most Helpful
LOVE these...reminds me of my mom. She use to make fried potatoes. To keep them healthy, I used a couple of tablespoons of canola oil to brown them and then transferred them to the oven to finish.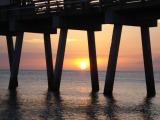 I have to admit that the recipe name threw me but when I came in here I found a great fried potato recipe. We put the sliced onion in with the potatoes so that they aren't crunchy but kind of carmelized. This was my Dad's favorite recipe when I was growing up. Made exactly like this.
I always thought RAW meant uncooked, or a more natural state!