Fried Pork Tenderloin Sandwich (A Midwest Favorite)
jrtfan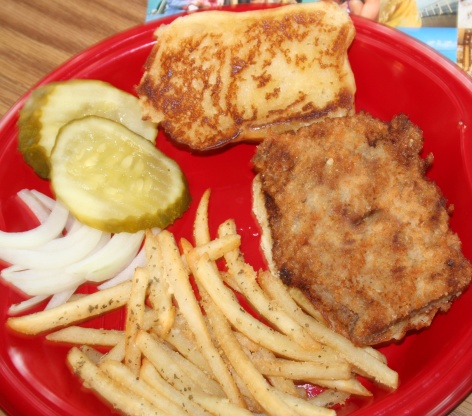 Recipe by DPN
A favorite found exclusively in America's Heartland. This one from America's Hometown, Hannibal, Missouri.

Top Review by jrtfan
I live in the Midwest and we have a local diner that serves these, however they are very thin. These sandwiches are fabulous! I always loved the ones from the diner until I tried this recipe. Used cracker meal and Panko for the breading, added some garlic salt. Better than the drive in. Easy and tasty. Can't wain til I make them for dh!
1

pork tenderloin (cut into 3/4 inch slices)
saltine crackers, made into meal (use a blender or processor)

1

cup water

1

tablespoon bouillon (I use Maggi brand chicken & tomato but any brand or flavor will do. Three of the cube variety work w)
oil (for frying)

4

hamburger buns
Cut the pork tenderloin into 3/4 inch slices.
Pound the slices until each is about 1/4 inch thick.
Place the cracker meal in a dish (aluminum pie pans work great).
In a second dish, pour in the water and stir in the bouillon.
Dip each slice in the bouillon water and then in the cracker meal.
Coat well.
Deep fry in a fry daddy or deep fryer at 375°F until golden brown. (Pan frying works equally well).
Drain.
Serve on a hamburger bun with your choice of condiments.