Fried Peaches With Honey, Cinnamon, Pistachio and Breadcrumbs
nitko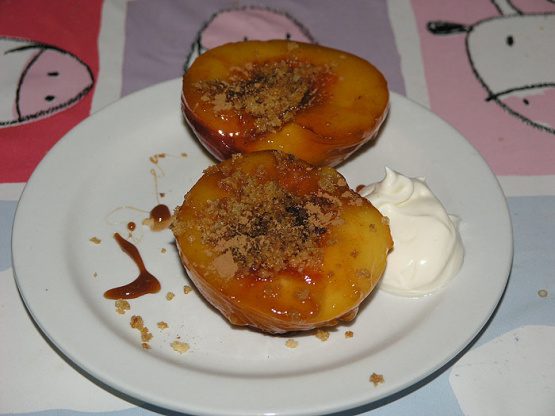 I have found this recipe in some magazine. The source of this recipe is Miss Tamara Novakovic, blogger from Croatia. I have changed the recipe with adding dry fried roughly grounded pistachio. Of course breadcrumbs are just fine if you don't have pistachio. Taste of this dessert is amazing, I gave it the nick name "the mother of all desserts". This is how it goes:
2

peaches (fresh)

3

tablespoons honey (from acacia or other light honey)

1

teaspoon cinnamon (grounded)

4

tablespoons sour cream

2

tablespoons breadcrumbs

1

tablespoon pistachios (roughly grounded)

1

tablespoon olive oil

3

tablespoons rum
Wash peaches, cut them in halves and remove the stone.
Take a dry frying pan heat the hone, add cinnamon and rum and put peaches on it. Fry 8-10 minutes.
Peaches will soften, honey will reduce and become like syrup. Turn peaches from time to time to cover them with syrup.
In other pan first fry grounded pistachio.
Remove it and add olive oil and brown some breadcrumbs. When finish, add some cinnamon.
Serve half peach on a plate, pour over some syrup and add some breadcrumbs mixed with pistachio and cinnamon and put it into the stone hole. Put a spoon of sour cream on the side. Serve warm.