riffraff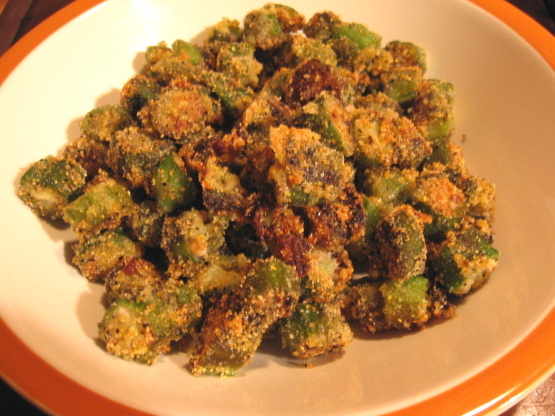 Being from Minnesota, I never had okra growing up, but after I moved south to Missouri, I found that I really loved it fried, even if it's kind of messy!

Born in OKC & now live in AZ. I grow okra easily in in AZ. Hubby and I pick about 100 pods, cut just as this recipes says only I put it directly into a clear plastic bag. Next I dice some sweet onion and place with the cut okra in the bag. I then add corn meal (Quaker Brand) and shake to coat evenly,, Add okra to hot Crisco shorting and cook over med to med-lo heat for apx 45 minutes so that okra is crispy (stir often). Transfer to paper towel to drain and salt to taste. Currently I have 3 rows of okra growing (60 plants). I get on average 60 (40 to 100) pods a day. I have 1 mutant purple okra plant that came from the same seed pod that the rest of the plants came from. Taste is the same as the others.
Put sliced okra in a bowl.
Sprinkle with salt, liberally.
Cover with very cold water.
Refrigerate for at least 1 hour.
Drain, rinse, drain again.
Roll slices in seasoned cornmeal until well coated.
Fry in hot oil about 1/2" deep until browned and crisp.
Drain on paper towels, serve hot.