Fried Mushrooms, Onions and Peppers
teresas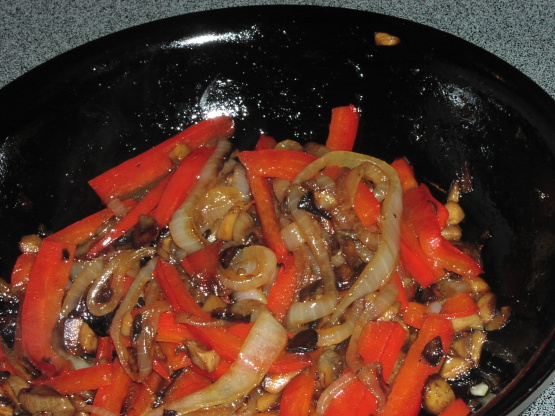 This is an easy side dish. It goes well with steak, this recipe is, as far as I know, my own. It was created by my mother, who when she married my father, hadn't had onions while my father hadn't had mushrooms. The pepper part is a latter addition, by me. As with any recipe calling for any type of pepper, feel free to substitute. For instance, if you like jalapenos, substitute 2 to 3 jalapeno peppers for the bell pepper(s).

I am giving this a five-star rating not just because this is such a tasty contribution but also an excellent choice for those times when you just don't feel like having an ordinary vegetable with your main meal and works wonderfully either along side or served over your steak or chicken. Because we always eat with your eyes first I like to use a combination of bell peppers when possible. I always have bacon drippings stored in my freezer or if bacon drippings are not in your diet regime you will find this also works nicely using olive or vegetable oil but ohhh the flavor those bacon drippings do impart. Thank you for sharing. Yummm..!!
1

large onion, sliced

1 -2

cup mushroom, chopped

3

tablespoons bacon grease, saved from cooking bacon
1 -1 1⁄2 bell pepper, chopped into strips (any color)

1 -2

tablespoon tawny port (optional)
Put 1 to 1 1/2 tablespoons bacon grease in the bottom of a medium fry pan, over medium heat.
Once grease has melted, add mushrooms and onion.
Cook over medium heat until onion is translucent, and mushrooms have given up most of their liquid, stirring approximately every 5 minutes.
About 20 minutes prior to eating, add the pepper(s) (If you're going to add the wine, add it at this point) and continue to cook stiring every 4 to 5 minutes.