loof751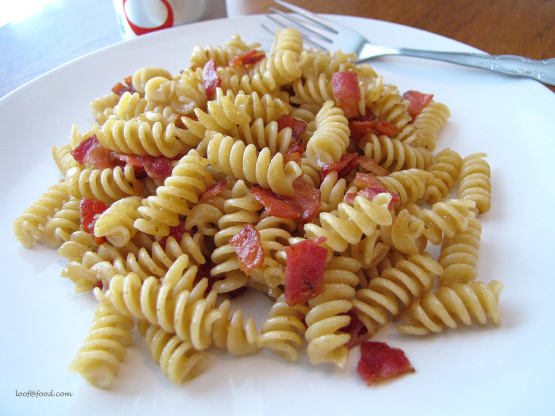 If you want something different, and love pasta, you'll like this. I can't take credit for this, it was made up by my Mom one day when she wanted something different to eat. She was an an amazing cook. I had her make it many more times. Thank goodness I had her teach me this one, many other's I wish I'd paid better attention to.

Made as given, though I seasoned it with lemon pepper instead of the usual S&P! Easy to make & a great new way for me to serve up macaroni! Definitely a recipe worth keeping around! Thanks for sharing it! [Made & reviewed for one of my adoptees in this Spring's round of Pick A Chef]
Fry bacon, remove from pan, set aside to drain.
Boil drain, and rinse macaroni.
Return macaroni to frying pan with bacon grease, cruble bacon and add to macaroni.
I never bother to drain off any grease unless the bacon was extremely fatty.
Sprinkle to taste with garlic powder,.
Salt & pepper to taste.
Give it all a good stir, cover and simmer on low for at least 10min or so to give flavor's time to meld, and macaroni to reheat and fry a bit.
Walla! Great fried macaroni.