Bone Man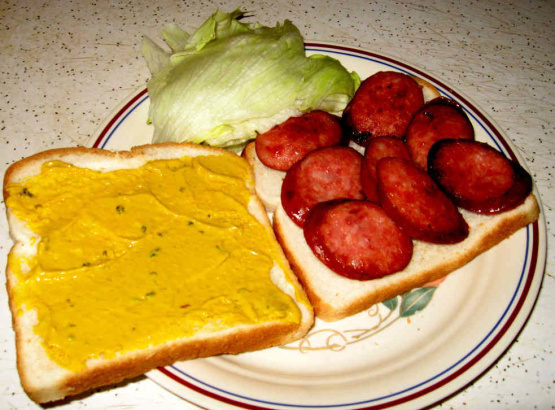 If you have the ambition, and your spouse will tolerate your frying food in the wee hours, this makes a super-tasting midnight snack. Yeah, it's probably not a great thing to eat late at night and then drop right back into bed, health-wise, but this is purely a guy thing. This sandwich also makes for an excellent brunch idea, being very hearty and will thus not leave you hungry. If you have a particular preference on mustard, go with your favorite. Enjoy!
6

ounces kielbasa (pre-cooked, sliced)

2

tablespoons cooking oil

2

slices white bread (I like a good quality bread for this, something made with a heavy dough)
1 1⁄2 teaspoons spicy mustard, jalapeno-type
In a small skillet, heat the oil over medium heat and lay in the kielbasa slices. Fry both sides until slightly browned, about 8-10 minutes.
Pat the fried meat with paper towels to eliminate excess grease and lay the slices out on the bread. Spread on the mustard and serve.