diner524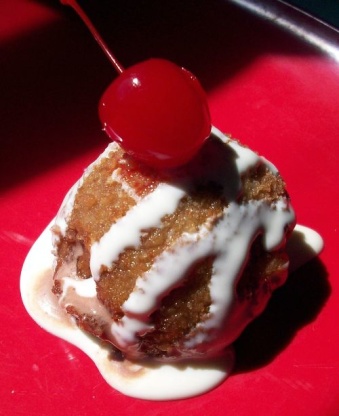 I searched the fried ice cream recipes on here and they use cereal or tortilla crumbs. This one uses cookie crumbs and it's amazing! I make small ice cream balls for a fun size treat. *Peanut oil gets hotter than vegetable oil and allows the outside to fry quickly without melting the inside.
Yummy!!! This is wonderful!! I used chocolate ice cream, so left out the cinnamon, but otherwise made as written. I then put marshmallow topping on them and a cherry on top!! If my 16 yo DS hadn't eaten all the vanilla ice cream, I had planned to make those with the cinnamon and then top with some honey and whipped topping. Next time!! Thanks for sharing your recipe joolzcd!! Made for Spring PAC 09.
Combine crumbs and cinnamon.
Dip ice cream ball in egg white, then in crumb mix.
Wrap individually in cellophane.
Freeze 30 minutes.
Dip in egg white, then crumb mix again.
Wrap again and freeze 30 minutes.
Unwrap and deep fry or pan fry in HOT oil 20 seconds or until outside gets crispy.
Top with "extras" (marshmallow creme, chocolate syrup and a cherry!).