Fried Home-Style Potatoes
diner524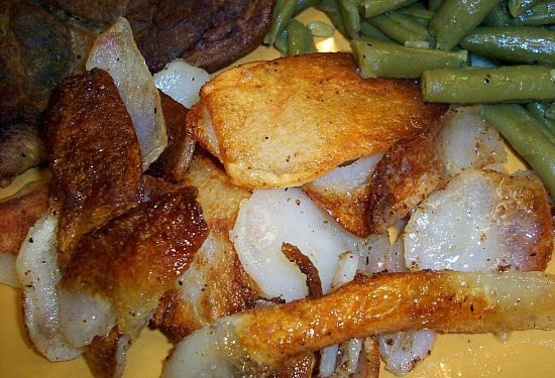 This recipe is from Paula Deen. It calls for her house seasoning and the recipe is included for that. I make up a batch of the house seasoning and use it for other recipes. Enjoy!
I love fried potatoes and I use Paula Deen's house seasoning on just about everything so knew I would love this recipe. I made these to go along with baked pork steaks and green beans and it was a perfect match. Thanks for sharing the recipe. Made for photo tag.
In a large Dutch oven or deep-fryer, pour oil to a depth of 2-inches.
Preheat oil over medium-high heat to 350 degrees F.
Wash potatoes and pat dry.
Cut each potato crosswise into 1/8-inch thick slices.
Fry potatoes in batches for 3 to 5 minutes or until golden.
Drain on paper towels.
Sprinkle with House Seasoning.
Serve immediately.