Fried Halloumi Cheese With Lime and Caper Dressing

A Delia Smith recipe my hubby discovered. It's a cheese I love and this recipe, although unbelievably rich is one of my favorite!
Directions
Pat cheese dry with kitchen paper.
Using a sharp knife, slice it into 8 slices.
Now prepare the dressing: Mash the capers slightly and mix in all other ingredients together in a small mixing bowl. Go easy on the salt since halloumi is quite salty.
When you're ready to serve the halloumi, heat the oil in a frying pan over a medium heat.
When the oil is really hot, press each slice of cheese into seasoned flour to coat it on both sides.
Add them to the hot pan and cook 1 min on each side. The color should be a nice golden brown.
Serve them straight away with the dressing poured over and garnished with coriander.
Most Helpful
I'm a big fan of halloumi so always looking for new variations to the theme. I thought the dressing was a bit "busy" with too many ingredients taking away the flavour from the halloumi. I would have preferred some balsamic dressing to offset the saltiness of the cheese. However, we thoroughly enjoyed experimenting with your recipe, hence the four stars!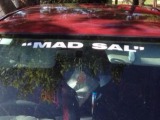 I loved it. My daughter turned her nose up at the dressing and then said put some on the side - then she came back for more. I think we have a convert to capers. :)
Yummy! I had a block of Cyprus Style Haloumi sitting in the fridge (which is a staple food growing in a Cypriot household). I am so glad I found this recipe, everything was so perfect. I normally don't flour my haloumi but I gave it ago and I can see why Luschka advised it. It gave it a crispy coat and it also soaked in a lot of the dressing. I had to alter the dressing and I used parsley instead of coriander leaves because it was all I had at home, however I did add some coriander powder to the dressing so the flavour was still there. I can't wait to get my mother to try it when she returns from her overseas trip. Thank you so much Luschka.