Fried Green Tomatoes With Shrimp Remoulade
hjb797s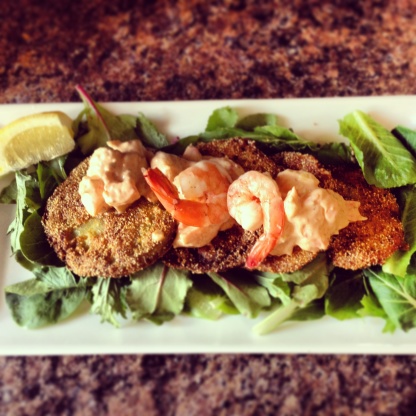 This is another recipe from New Orleans' Crescent City Market, presented by Kenneth Smith of the Upperline Restaurant

This was really good, I've kept forgetting to review this for quite some time now. The only change I made was to coat it in flour, then egg, then cornmeal, as it help the coating to adhere better. Looking forward to making this again!
To prepare Remoulade Sauce:.
In a bowl, combine mustard, ketchup, horseradish, lemon juice, paprika, white pepper, and cayenne pepper; mix well. Season with salt.
Slowly add oil while whisking vigorously. If needed, add more cayenne pepper and salt, adjusting to taste.
Add celery and scallion; mix well.
Cover and refrigerate until chilled, at least 30 minutes.
To prepare Fried Green Tomatoes:.
Heat oil in a sauté pan over medium heat.
Whisk together egg and milk. Dip tomato slices in egg mixture, then coat with cornmeal.
Carefully place tomato slices in sauté pan and cook SLOWLY until golden brown on bottom, then turn and brown the other side. (Note: If tomatoes are cooked too quickly, the outside will brown before the inside is cooked.).
To serve, arrange greens on an individual serving plate. Place fried tomato slices next to each other on the bed of greens. Top each slice with three or four shrimp. Spoon remoulade sauce over shrimp.