Prep 30 mins
Cook 10 mins
I did a search and came up with many fried green tomato recipes on here, but this one is different in that it uses buttermilk, and no cornmeal. Culinary lore says that ripe red tomatoes felt so much like human skin that eating them was considered improperly erotic. In any case, there was something suspect about this New World member of the nightshade family that the Spaniards first brought back to Europe. One solution to it's naughty nature was to eat green tomatoes, which are firm and not nearly as sweet as ripe ones. This version is delicious. Cook times are guestimates.
Directions
In a bowl, mix together the eggs and buttermilk.
Whisk in the 1 TBS flour, 1/2 the salt and 1/2 the pepper.
Soak the tomatoes in this liquid for about half an hour.
Whisk together the remaining flour, salt and pepper.
Heat about 1 inch of oil to 350*F in a heavy skillet.
(I use my cast iron one).
Dredge the tomato slices, one at a time in the seasoned flour, shaking off any excess.
Fry the slices in hot oil.
Do NOT crowd.
(slices should not overlap as they cook).
Fry each side until it begins to turn brown.
Turn in the oil and fry until golden brown and crisp.
Drain on paper towel.
Salt to taste.
Serve with tomato chutney.
Yummy!
Reviews
Most Helpful
I have never ever made Fried Green Tomatoes before -- until a "wild" tomato plant grew from a seed at our front door recently, just before winter struck. Unfortunately it flourished into winter, which is just too cold for tomatoes! So I harvested some of the large green tomatoes it bore, on a very cold rainy day ... Then I read through the recipes here, and this recipe sounded just right! And so it was!! Thank you, Stinkerbell, it is a great recipe! (A great reminder of a film I've watched twice -- "Fried Green Tomatoes at the Whistle Stop Caf?"!!) The flour covering did not slip off, and the slices fried to a lovely golden brown!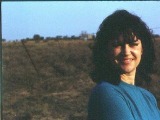 Yummy!! I had to find a way to use up tomatoes that got knocked down in a bad storm and this was perfect! I'm tempted to pick all of my green tomatoes and make this every week.
This was our first time making green tomatoes at home. We have ordered them out a few times, but they have met with mixed reactions as a couple of people in the house don't like cornmeal. Needless to say, it was a real treat to find this recipe without it. The buttermilk/egg soak combined with the flour fried up to a very nice crisp crust, and the tanginess of the buttermilk went very well with the flavor the tomatoes. Thanks Stinkerbell for a real treat!