Sara 76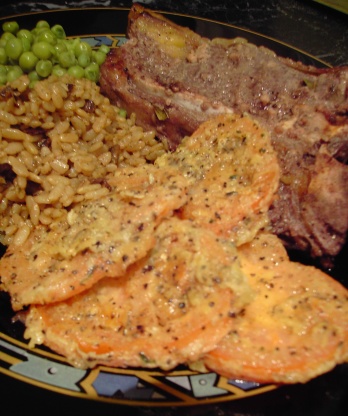 I came up with this recipe on my own while trying to make the perfect fried green tomato...It's absolutely fantastic! Don't skip the step of drying!
This is the first recipe I have seen in over 50 years that puts in drying time after slicing. This was my Aunt Rosie's way of making these and they were always perfect. Heirloom tomatoes take me right back to my childhood and they taste SO much better. Enjoy these like I did!
First, cut your tomatoes at 1/8 inch and lay out to dry -- I lay down paper towel and then place tomatoes on a cooling rack and then layer more paper towels on top. THIS STEP IS VERY IMPORTANT!
While tomatoes are drying, mix together flour, black pepper, Italian seasoning, and cayenne pepper.
Dip tomatoes slices into egg and milk mixture and then coat with flour and seasoning mixture.
Place in a hot skillet with oil and fry for about 3 minutes on both sides or until browned.
I usually place them back on the cooling rack so they don't get soggy when they are finished.
Serve immediately!