Parsley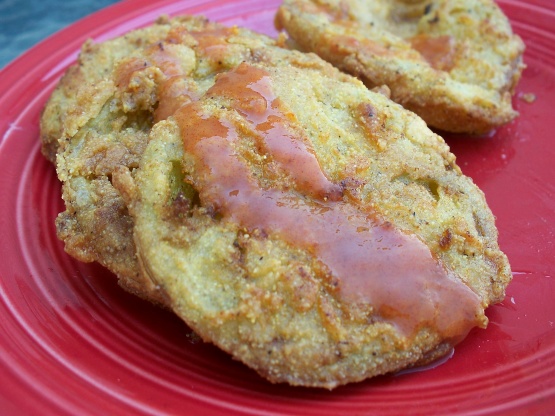 Slightly different from the others, very tasty for a summer bbq!

I haven't eaten these in years and decided to make this recipe based on the ingredients/spices. I was very pleased. The cornmeal gave extra texture to the coating and the garlic and red pepper kicked up the flavor. These are excellent served with hot sauce. Thanx for sharing your recipe!
Cut tomatoes into 1/4-inch-thick slices.
Combine flour, cornmeal, salt, garlic salt, red pepper and black pepper in pie plate or shallow bowl; mix well.
Pour buttermilk into second pie plate or shallow bowl.
Heat oil in large skillet over medium heat.
Meanwhile, dip tomato slices into buttermilk, coating both sides.
Immediately dredge slices in flour mixture; shake off excess flour mixture.
Cook tomato slices in hot oil 3 to 5 minutes per side.
Transfer to parchment paper or paper towels.
Serve immediately with pepper sauce, if desired.