Prep 10 mins
Cook 20 mins
Some people use plain meal, some use plain flour. I like the mixture of both, but however you coat them, they turn out just plain good. Ask any farmer, they will tell you.
Directions
Put salt, cornmeal, flour and pepper in a large zip lock bag.
Slice tomato 1/4 inch thick into a bowl big enough to hold all slices.
Pour milk over tomatoes.
Shake dry ingredients up in a Ziplock bag.
Pour milk off of tomato slices and pour slices into bag of dry ingredients.
Lock bag and shake tomato slices in bag till well coated; set aside.
Put bacon drippings and oil in large frying pan. Heat till hot enough to fry.
Lay slices of tomatoes in fry pan and fry till brown on first side. Turn and fry till brown and tender on other side.
Enjoy.
Most Helpful
I (and I alone since no one else in my family likes these!) really enjoyed these. I did reduce the cornmeal a little bit, but I enjoyed the flavor. Thanks for posting!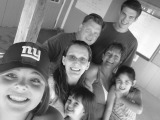 Loved this recipe...used Tony's seasoning instead of plain salt.
This recipe was exactly what I was looking for. I have one child allergic to egg so this was a nice no egg version. I had not made it with cornmeal before so I was hapily suprised with the added crunch it offers.. the kids loved it. Thanks.